Saturday, September 15, 2001


Amateur Newsies Top the Pros(11:33 PM) ¶
As the world continues to reel from this tragedy, people in the streets are lashing out. Not far from my home, a Pakistani woman was run over on purpose as she was crossing the parking lot to put groceries in her car. Her only fault? That she had her head covered and was wearing the traditional clothing of my homeland. I am afraid for my family?s well being within our community. My older sister is too scared to take the subway into work now. My 8-year-old sister?s school is under lockdown and armed watch by police. --Usman Farman
(11:29 PM) ¶


My friend Ed Robinson wrote the following (reprinted here with permission) and it sums up so much.

Memo to Mr. Bin Laden or whoever did this: If you thought that you were going to break the spirit of my hometown, guess again. I saw something very wonderful this Friday night in New York City.


I saw a Friday night in New York City.


People are starting to come back out onto the streets of Manhattan again. They were gathering in bars. Going to restaurants. Not looking as zombified.


Yes, the trade center is gone and the southern horizon of Manhattan still disappears in a smokey cloud around Chambers Street but I think we've begun to notice that we're still here. And we're quite a bit stronger now, Mr. Bin Laden.


Today the New York Post decided to focus on human interest stories on this national day. That old bit about there being eight million stories in the naked city has never been more true. Any where you look, from a woman pushing a child wearing a dust mask in a stroller to the people on West Street waving signs that say "Thank you" as relief workers drive by, the largest city in America is wearing it's humanity on its sleeve.


Aren't we all supposed to be rude? And where's the crime? Doesn't everybody realize the police department and the rest of the city government is completely overextended?


My assignment was to cover the largest of the impromptu candlelight vigils that were set to begin at 7 p.m. as called for on the Internet. It was at Union Square Park in Greenwich Village. The park has become something of a gathering place since the crisis. By 7 p. m it was entirely filled with thousands of people covering the park in a sea of light. The incense and aromas were quite a contrast from the dust I experienced 24 hours earlier at the trade center.


A small group began singing "America the Beautiful" then "God Bless America" then some street performers began leading us into several renditions of "The Star Spangled Banner" All types of songs. "Amazing Grace," "Lean on Me," We Shall Overcome," Even "Somewhere over the Rainbow." We cried. We hugged. We held onto each other.


A young actor who was posting a picture of a missing friend at one of the many makeshift shrines that sprung up, told me through tears, "You can tell your problems to anyone here even though they're strangers."


People wrote messages on the ground with chalk. They prayed they held hands. Then a strange thing happened. As the night wore on, people seemed happier. The singing became less solemn. People who brought musical instuments began to jam. A bagpiper who had been playing "Amazing Grace" began to make his bagpipe sound jazzy. I was kind of impressed. People danced. In short, a party was beginning to break out. People told me they needed to emote they needed to celebrate life. A few told me they were angry saying the music was inappropriate. It may be paradoxical but I felt all opinions were valid. People need to deal with grief in their own way.


The point is we are dealing with it. We've all been changed individually and collectively by what happened on Tuesday.


We learned what it is to be human. You might want to try it some time Mr. Bin Laden.

(2:45 PM) ¶


What it is like to be out of the country when major events happen from my friend Chris who is in Kiev until he is able to get a flight back home.(10:52 AM) ¶


Mr. Rogers on helping children cope(12:01 AM) ¶

Friday, September 14, 2001


Too much God?

If I believed in a God of vengeance (I don't), I'd pray for him or her to smite Coulter, Robertson and Falwell, smite them with mercy but smite them nonetheless: hemorrhoids, maybe, for the portly Christian gentlemen; a year of bad hair days for the nasty blond Coulter. (A friend asks, "Does she talk to Jesus with that mouth?") But in the end they'll punish themselves. Falwell and Robertson have to live with their own idiocy: By their twisted logic, the terrorists were agents of God, and thus we should welcome their vengeance. Coulter has to live with her own meanness. --Joan Walsh
(11:38 PM) ¶


Now more than ever (Salon.com)

My mother had a very different explanation for her daughter today. "To me, this rain is proof that there is no God," she said on the phone from Boston. "People say that God can't help terrorism, that he gives people freedom to act as they choose. Fine. But a God who would hinder the rescue workers with rain? If God can't control nature, then what's the point? How can anyone believe today?" -- Lauren Sandler
(11:35 PM) ¶


Trade Center's Past in a Sad Paper Trail. This just about made me cry. I used to work for a painting crew in Manhattan in the summers during high school. Once we worked on renovating a brownstone somewhere on the upper east side. In addition to taking out a wall with a very big hammer (named Thor) I also had to clean out a room of all the garbage. Well, that garbage were leftover papers and notes from the people who lived there. I became fascinated with the papers. I just sat there reading them trying to understand who they were and why they had left the stuff behind. My favorite books in antique shops are the ones people have written in. I love these little hints of people and who they are or were. They touch me inside and I feel a connection for a brief moment. These papers from the World Trade Center do the same thing but on a much deeper, more painful level.(11:26 PM) ¶


People, relax. The Nostradamus prediction was a fake.(10:19 PM) ¶


A wonderful poem by Pablo Neruda via The Doc Searls Weblog.(9:32 PM) ¶


Stocking up... Dan Gillmor has a great idea: on Monday, everyone buy a few stocks. If we all do it, the market will do well and we can hopefully avoid some of the doom and gloom predictions going around...(9:26 PM) ¶


TOS Cast Remember Late DeForest Kelley (The Trekker Newsletter). So, I'm being a sci fi geek tonight. Sue me.(9:10 PM) ¶


JMS Update (Sci-Fi Storm). Some Babylon 5 and other news. Ragers to debut on SciFi on Jan, 2nd.(8:59 PM) ¶


Handling the Loads (Slashdot). How Slashdot stayed up on Tuesday with the increased net traffic.(8:51 PM) ¶


Via DaveNet, Mir Tamim Ansary on Afghanistan "

We come now to the question of bombing Afghanistan back to the Stone Age. Trouble is, that's been done. The Soviets took care of it already. Make the Afghans suffer? They're already suffering. Level their houses? Done. Turn their schools into piles of rubble? Done. Eradicate their hospitals? Done. Destroy their infrastructure? Cut them off from medicine and health care? Too late. Someone already did all that. -- Mir Tamim Ansary

Anyone who thinks we should up and attack Afghanistan should read this piece.(8:37 PM) ¶


DaveNet : Palestinians. Dave Winer writes a wonderful essay about peace and understanding.(1:13 PM) ¶


WTC wreckage guards buried treasure of COMEX gold

"It's probably safer than it's ever been. It's probably buried under 107 stories of rubble,'' said Jonathan Potts, president at FideliTrade Inc, the Wilmington Del.-based parent of the Delaware Depository Service Co., an official COMEX warehouse for silver.
(9:43 AM) ¶


God Gave U.S. 'What We Deserve,' Falwell Says (washingtonpost.com)

Television evangelists Jerry Falwell and Pat Robertson, two of the most prominent voices of the religious right, said liberal civil liberties groups, feminists, homosexuals and abortion rights supporters bear partial responsibility for Tuesday's terrorist attacks because their actions have turned God's anger against America.

This is disgusting. This is offensive. I can't even begin to describe how mad this makes me feel. These men are no better than the terrorists to carried out this act. Why is it that such terrible tragedy brings out such ugliness in people? What we need is come together as a community, as a society, as a nation and heal inwardly while we take decisive and just action outwardly. I don't know what else to say except that this makes me so angry and so sad because far too many people think like they do. And I may not be the most religious person in the world but I certainly do know that the God portrayed in the New Testament would not take retribution out on the innocent. Where does Jesus say or do anything that leads them to think this? It's awful, just awful.(9:40 AM) ¶


It Was Business as Usual, Then 'Boom' (DefenseLINK News)(9:32 AM) ¶


My High School Director
When I was in high school, I was in Oklahoma (Jud), Carousel (Mr. Snow), The Fantasticks (The Boy), and other plays. But the three I singled out are interesting and not just because I danced with a very young Jennifer Lopez in Oklahoma (really!) but because of the director. Kathy is a phenomenal director. She brought such skill and artistry to the work and our plays were damn good because of her. I have the most wonderfully fond memories of these plays. I last saw Kathy two years ago at a Christmas party and I hope to see her again soon.


I'm thinking of her today because her brother, a New York City Fireman, has been missing since Tuesday.(9:08 AM) ¶
George W. Bush is facing multiple challenges, but his most important job is a simple matter of leadership. The nation, reeling from this week's terrorist attacks, needs to see its president in control, ready to make tough decisions for the right reasons. Expressing determination to punish the people who organized the assaults on the World Trade Center and the Pentagon is important, but not nearly enough. --The New York Times
(8:16 AM) ¶


kottke.org has an excellent collection of pictures/media about Tuesday's events.(8:12 AM) ¶


The Doc Searls Weblog : Thursday, September 13, 2001. I read his entry "Other Voices" and I was moved by it. I'm new to Doc's weblog but I see why he's so popular. And I also agree with him. I haven't been listening to NPR lately. My commute isn't in a car anymore. It's upstairs to my office at home (until we actually move to the DC area) so I rarely have the radio on. I'll change that today.(8:11 AM) ¶


Donate to the Red Cross from Amazon, PayPal, Yahoo, the Red Cross website or call 1-800-HELP-NOW.(8:00 AM) ¶


100 Questions and Answers about Arab Americans: Let's combat ignorance with information. People who are calling for the expulsion of Arab Americans from the United States are wrong and need to see this. They need to understand what the United States is and why it was founded. anil dash speaks about this on her weblog far better than I can here.(7:56 AM) ¶

Thursday, September 13, 2001


Ok, I redid the navbar on the left. Mangia!(10:41 PM) ¶


My friend Andrew Pulrang has a wonderful weblog: apulrang.diary. I should have linked to this a long time ago. Come to think of it, I should add my favorite weblogs to the left column on the main page. I think I will. Watch that space...(9:52 PM) ¶


Salon.com News | Arab-Americans fear backlash(1:48 PM) ¶


Anti-Attack Feds Push Carnivore "Federal police are reportedly increasing Internet surveillance after Tuesday's deadly attacks on the World Trade Center and the Pentagon."(1:32 PM) ¶


Email groups warn of terrorism-related scams online "Email protection and consumer advocacy groups warned today of online attempts to fraudulently profit from yesterday's attacks on the USA. These attempts are taking the form of unsolicited e-mail ("spam") and postings in community forums, soliciting "donations" in the name of victims of the attacks."


Yet another example of why you should just never trust unsolicited email no matter how good the cause may seem.(1:30 PM) ¶


This picture says it all.(9:58 AM) ¶


Investigators Identify Team of 50 Terrorists(3:02 AM) ¶

Wednesday, September 12, 2001


One idea for rebuilding the WTC...(12:43 PM) ¶


News from the WTC & Pentagon terrorist attacks. Comprehensive site.(10:49 AM) ¶


My friend Ed, who lives in New York City and works for the Post, sent out this email late last night:

I went to a prayer service at St. John the Divne, a press briefing at the port authority bus terminal (in the past the port Authority usually holds press briefing at WTC) and they sent me to a medical triage center near the Chelsea piers a giant sports complex on the Hudson River that is up the road from WTC. I watched as hundreds of police cars and ambulances went down the road. You've never seen so many. The thing is they were all diferent colors because they didn't come from NYC some of them came from towns upstate and on Long Island. Some nearly 75 miles away As massive as the NYPD is they needed tha much help. They just kept coming. Like some sort of parade. Some came back but they were mostly carrying injured emergency workers and the like nothing major.


We were told that the serious cases wouldn't come untill daylight. There was also a horrible rumor going around.


It was being said that the Chelsea Pier was chosen because it has a giant Hockey rink which could serve as a morgue.


I have a feeling I'm going to hate tomorrow.
(7:44 AM) ¶

Tuesday, September 11, 2001


Web Offers Both News and Comfort [New York Times] "For many Internet users, the medium simply provided an immediate way to share their own personal experience of a national tragedy in postings to chat rooms, Internet discussion forums and personal Web sites."(11:47 PM) ¶


Boston Globe Online / Nation | World / Swift says election should continue. Our Acting Governor is, frankly, an idiot. This has nothing to do with bending to terror. It has to do with giving people the chance to spend time with their families and loved ones. It has to do with the fact that people on those planes were from Boston. It has to do with respect for the injured and the dead.(10:22 PM) ¶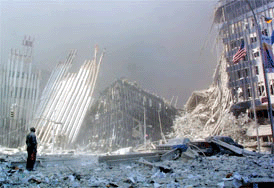 In the early '80s my sister Ann worked in the World Trade Center around the 100th floor. I was still pretty little then and when she took me to work for a day, it was the most fun I ever had to that point in my life and for some time after. I spent all day wandering around, looking out the windows, and taking tons of pictures. I have to go and look them up now in whatever box they got consigned to. To see these wonderful twin buildings on the ground in ruins makes me so sad. I can't even begin to comprehend the loss of life and the overall human tragedy. Those of you who know me know that I embrace my disdain for organized religion fully but shaving aside the cynicism my thoughts and prayers go out to everyone involved. Tonight we feel for the families and friends of the innocent victims of this horrible crime. Hug your loved ones, kiss your children, make peace with people you've had a falling out with. It's just not worth it. Put everything in perspective and embrace the good in your lives.

On a related note, I hear that after previous terrorist attacks, including the home-grown Oklahoma City bombing, many Muslim-Americans suffered at the hands of outraged people. Don't give in to hate. Wait for the true perpetrators of this crime to be found and let justice be served. Vigilante justice is no justice at all. Don't give in to hate. That's just playing into the hands of the people who did this. That's what they would love to see: us collapsing from within. We cannot do that. Stand together, embrace your neighbor, remember what makes America great.

This picture (right) shows all that remains of the base of one of the towers. I remember taking pictures of this as I was fascinated with the architecture and how the lines went all the way up the building.(10:06 PM) ¶


World Trade Center - Minoru Yamasaki - Great Buildings Online(9:59 PM) ¶


You're watching TV Barn. This weblog is providing good coverage too. It's also criticizing the network news coverage which is both inappropriate but also oddly interesting.(3:44 PM) ¶


Also connecting to chat.cnn.com via irc and joining channel #CNN_Newsfeed gives you live close captions from CNN's live broadcast.(3:24 PM) ¶


Dave Winer's Scripting News Weblog is doing an excellent job of covering the news based on reports on many weblogs around the Internet. In many cases, this is the best channel of news given the fact that the major news sites are hard to reach. Many people are reporting what they are hearing on TV, the radio, and from their own sources.(3:10 PM) ¶


Good source of news from a news site that's actually loading today: The New York Times: APNews(3:08 PM) ¶

Monday, September 10, 2001


X-Ray Orbiter Becomes a Particle Physics Experiment(9:49 PM) ¶


Physicists Strive to Build a Black Hole '"Future colliders could become black hole factories," said Dr. Steven B. Giddings, a physicist at the University of California at Santa Barbara. If some recent theories turn out to be right, the effect would be far from subtle, with one tiny black hole popping into existence every second and harmlessly disappearing with an unmistakable burst of energy.'


Well, that's reassuring. Assuming there isn't something about higher dimension physics that they don't know yet which will bite them in the ass. I'm reminded of James P. Hogan's sci fi novel Thrice Upon a Time which is an old favorite of mine (I love Hogan's books even though he is hardly the world's best writers -- then again, I haven't read anything he's written in the last 10-15 years, he may have improved) in which a super-collider is brought online and millions of tiny black holes are created by accident. These black holes immediately fall (they're very heavy, of course) and start passing back and forth through the Earth. When they surface, they can cause havoc. In one case, one passes through someone's leg and damages everything on its way through. Eventually, they would settle down in the center of the planet and eat it away from the inside. OK, it's hokey but I read this when I was, what, 12? It stuck with me. I can't help but think of that when I read this article. So, I just hope they are right :)(9:48 PM) ¶


Salon.com Politics | Book says Justice Souter was close to swaying Kennedy in election case(9:28 PM) ¶


Forbes.com: U.S. business forecasters expect recovery by end 2001 "U.S. business economists lowered their forecasts for U.S. growth for 2001 and 2002 but most say the U.S. economy will not slide into recession and should start recovering by year end, a survey showed Monday."


I hope they are right. Last week's plunging Dow came after the higher-than-expected unemployment numbers (among other things). I'm very surprised that the current jump in unemployment shocks people. I know a lot of people (including myself) who were laid off back in the early spring but were given generous severance packages. None of these people would show up on the jobless listings until they were able to file for unemployment when their severances ran out. Are we the only ones who knew this? I was out of work from April through the end of August and I didn't file until mid-August so I wasn't counted until then. This worries me. Was there another round of such layoffs in June or so which won't show up until much later on?(8:56 PM) ¶



In 6th grade, John Hubner jumped on top of a gym mat that had fallen on me and broke my left (from my perspective) front upper incisor (tooth #9). For the next 21 years or so I wore a crown which, I found out last December, should only have been in for, at most, 4 years. Last Christmas, the root underneath finally got infected and I had to have the crown removed, get root canal, and a new, temporary crown. It was time to finally get GOOD front teeth. Well, then came the long unemployment streak and I backburnered my dental plans. But they're done now and they look incredible (I say they because we decided to put crowns on both front teeth so they'd look more natural). And tomorrow, after they are fully set, I can eat an apple for the first time in over 10 months. What's more, there's no longer a gap between my front teeth! On the downside, I now talk with a pronounced lisp. Call me to hear it. I'm rapidly improving. The dentist reports that it shouldn't take me more than two weeks to re-learn how to speak with the new architecture in my mouth.(4:54 PM) ¶


For some insane reason, I am now also running a Webcam. I doubt this experiment will last too long, but I've been wrong before.(4:45 PM) ¶


UK Children Cause Earthquake in Giant Jump. I've always wanted to conduct an experiment like this. I also wanted to do one where everyone in the US shines a flashlight straight up to see if it shows up on a satellite picture...(7:47 AM) ¶

Sunday, September 09, 2001


Salon.com Arts & Entertainment | The art of war. A review of "Band of Brothers" which starts tonight on HBO.(4:14 PM) ¶


Apple - Hot News - Neighborhood Nerve Center. We need one of these here. Better still, in Arlington, VA...(2:53 PM) ¶


Lots of X Windows software for Mac OS X...(2:48 PM) ¶


My friend Chris has some thoughts on his current trip to Kiev. It's all my fault. I went on and on about weblogs and he finally tried one to shut me up ;)(2:39 PM) ¶


Well, I'm home again... but now we're getting the upstairs office all set up so I can work full time from up here. I also dragged out one of my old PowerMac 7100/80's (I've got two if anyone wants to buy the other) so I can set it up as a linux box... This is how I celebrate football season.(2:08 PM) ¶


Boston Globe Online / Sports / It's high time for Harrington to own up to it. Damn straight. Damn right on.(1:57 PM) ¶
---
Previous Dates...